This is post number '666' on MHMB and goes to MOTORHEAD. Lemmy talks about the band and "Aftershock" in a new video. 15 minutes of interesting information.
MOTÖRHEAD - "Aftershock" - EPK
MOTÖRHEAD - "Aftershock" Electronic Press Kit
Source: UDRmusic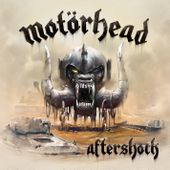 CD review MOTÖRHEAD "Aftershock"
(8/10) And review no. 100 on Markus' Heavy Music Blog goes to: Motörhead Actually I don't know what to say about Motörhead. This is not since I'm speechless, but more because almost everything is...
http://mwiemetalblog.over-blog.com/2013/10/cd-review-mot%C3%96rhead-aftershock.html