German hip-hop / funk musicians Jan Delay recorded a song about our favorite festival "Wacken". The song is pretty cool and I like the guy. If someone outside the metal scene is allowed to make a song about Wacken than it is Jan Delay. Well done bro.
But there seemed to be also some negative feedback, since Jan posted a statement on his FB side. It is unfortunatley only in German (but there is Google translator):
"liebe internet menschen! erstmal vielen dank für's klicken, teilen, und vor dem rechner tanzen ! da ich durch meine neu eingeschlagene musik-richtung, aber vor allem durch den titel und das video nun in den ohren und foren der "schwarz t-shirt-fraktion" gelandet bin, möchte ich gerne folgende sache an sie los werden.. und ich hoffe, dass es sie erreicht:
ich will mich keineswegs in eure sache reinzecken! ich bin nur ein hamburger jung mit gutem musik-geschmack, der "euer" festival als eine metapher benutzt um klar zu machen, dass es gut tut mal etwas komplett anderes zu machen! ich will euch doch nix wegnehmen mein "wacken" ist und bleibt das splash-festival! und wenn black sabbath da ihr video drehen, bin ich der erste der es feiert! und all die anderen 20.000 auch!! ihr dürft höchstens gepisst sein, weil ihr denkt: "da kommt dieser nasale wixer mit seiner scheiß disko no.1, und erinnert uns mal kurz daran was unsere bands früher für einen geilen sound hatten !!"
und ganz nebenbei war das wacken-festival von den leuten her das peacigste und liebste festival auf dem ich in 20 jahren je war!! vor und hinter der bühne!! danke! ..liebe!! ...pommesgabel !!!"
Source: Facebook - Jan Delay
Feel free to share your thoughts in the comments. Thumbs up? I think, better Jan Delay than Heino!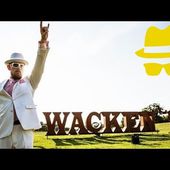 Jan Delay - Wacken (Official Video)
Jan Delay - Wacken | Das Album "Hammer & Michel" ab dem 11.04. | Jetzt vorbestellen | Amazon Standard CD: http://amzn.to/19fyFl0 ►►Fan Edition M: http://amzn.to/1lDU4HK ►►Fan Edition L : ...
Source: JanTubeOfficial