De La Tierra released a video. You wonder who is De La Tierra. It is the band of Sepultura's Andreas Kisser, together with A.N.I.M.A.L.'s Andres Giménez, Sr. Flavio and Alex González. The band worked on their self-titles album which will be released in January via Rodarunner Records. Cool grooving stuff.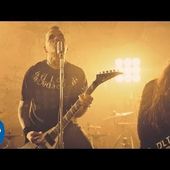 De La Tierra - Maldita Historia [OFFICIAL VIDEO]
De La Tierra's video for "Maldita Historia" from the album De La Tierra, coming in 2014 on Roadrunner Records. Pre-order now on iTunes: http://smarturl.it/delatierra-album Subscribe: ...
Source: Roadrunner Records