(8/10) Münster in Germany is well known for a vital music scene. Quite some bands are coming from there like Eat The Gun and Mad Max. Another example are the Black Space Riders. After "s/t" in 2010 and "Light is the new black" in 2012 the band worked on their third album called "D:REI".
"D:REI" is a concept album, split into 3+1 chapters, which tells a science fiction story. The story is about withdrawal, escape, annihilation, transformation and a new beginning. You can get more insights on: http://www.blackspaceriders.com/drei/
The sound of the band is difficult to describe since it covers a lot of different influences. There are songs like "I see" and "Way to me" which shows some 70's influences (The Doors and Led Zeppelin) but there are also songs like "Stare at the water" which reminds to stoner rock bands like Monster Magnet. Next to those songs there is with "Rising from the ashes of our world" a seven minutes long groove monster on the album which is directly followed by the hypnotic "Give gravitation to the people". A song which also could have been written by Sisters Of Mercy in their earlier year. The song is more dark-electro-alternative-rock than metal – and damn cool. "Temper is rising" follows the same principle. Those songs could become small hits in alternative clubs. "Major Tom waits" is the total contradiction to the before mentioned groovers. It is very slow, very dark and almost depressive. You feel lost in space while listening to this track. Black Space Riders actually manages with all songs to create some pictures by their music, which for me shows also the quality of the songwriting.
Black Space Riders writes music which grooves a lot, which is sometimes very doom oriented, which is depressive, which rocks, which transports dark vibes and a heavy groove. The good thing is, that all these elements are combined to one unit and the band didn't get lost between all those elements. An interesting album which needs time to discover. Take the effort and enjoy the trip.
(8/10)
Tracklist:
D: Defiance
Stare at the water
Bang boom war (outside my head)
Rising from the ashes of our world…
R: Ruins
Give gravitation to the people
Way to me
Temper is rising
The God – survivor
E: Escape
I see
Leave
Space angel (Memtim)
I: Beyond
Major Tom waits
Letter to the young one
The everlasting circle of infinity
Label: BSR
Genre: Alternative Rock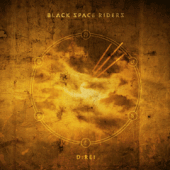 A lonesome way out of a somehow doomed world: retreat! A voyage into the deepest inside, into a galaxy of inwardness, called the "inner space": peace, freedom, depression and deepest isolation ...