Markus' Heavy Music Blog: Hi Alex, good to have you on the phone. How are you?
Alex Beyrodt: Thanks for asking. I'm good. I'm sitting here now quite relaxed with a coffee in my office.
MHMB: It's good to hear that you find time to relax. I could imagine that you had a busy year so far.
Alex: That's right and it will get even more intesive in the coming months. I will be on tour in 2014 like in none of the years before. And all the touring next to my own business, the wish to write new songs and the plans to work on the next Voodoo Circle album. So it will become a very busy 2014, but I don't want to complain since my dedication to music is huge and I enjoy doing what I love the most.
MHMB: You guys, or better said 'you', have worked on a new Silent Force album which will be released mid December.
Alex: Yes, that's right. And it's nice that you mention that Silent Force is my band. I don't think that this was very clear to a lot of people. But if you have a look into the current line-up and listen to the songs it becomes pretty obvious who Silent Force was and is. And of course there is a reason why three former members aren't on board anymore. There are reasons which led to that situation. I think that at least two of them haven't really understood that Silent Force is only functioning when I'm writing songs. There were some problems in the past since they claimed songwriting rights. But why should I have done this. I told them that I was sitting the whole summer in the cellar, writing songs while they enjoy the swimming pool. Since they also had a kind of amateurish approach two of them are bach in cover bands, like before I gave them the chance to play in a professional band and to travel the world with a pro band. But maybe that's what they prefer for themselves. I'm tired of being the nice guy and holding back such comments. "No more Mr. Nice Guy" - that's how I live these days and it turns out to be great. DC Cooper is back in Royal Hunt, which I think personally was the best move for him. I actually told him to do so when he called me, telling that he got the offer. I don't have any hard feelings there at all. That was important to mention.
MHMB: If I have counted right "Rising from the ashes" is your fifth album. Since you haven't been present with Silent Force for 6 years I could imagine that the title is a bit more than just a name for an album.
Alex: Absolutely. It's probabaly not the most innovative title, but it just fits to the situation of the band and also my private situation. In 2009 my life turned upside down, I had to go through many changes, I moved from the Canary Islands back to Germany and moved on. So had to start from scratch again. It needed a few years to recover from all these strokes of fate and due to that Silent Force haven't got any attention from me. And like mentioed earlier, I wasn't really happy with the line-up on those days too. That's basically why it took that long to come out with a new album. But after all this it was now the right moment to blow back life into Silent Force.
MHMB: And it was a great decision to record a new album. I got the chance to listen to some of the new tracks and I think, that you can hear that energy push and the vitality in the different songs. I was surprised about the high quality level of the new album. I really like.
Alex: Thanks. That's great to hear. I also got only positive feedback so far. I was a bit curious how people would react, esp. since D.C. isn't doing the vocals anymore. But it seems that everybody is just happy with "Rising from the ashes" and the new line-up is well respected and appreciated.
MHMB: With Michael Bormann you have an old friend in the band again. But also Mat Sinner is part of the line-up. It seems that especially with Mat you have a good cooperation/relation since you're playing together in Sinner, Voodoo Circle, Primal Fear and Silent Force, plus now also on the 'Rock meets classic' tour.
Alex: Yes indeed. It works pretty well with Mat. He and myself are making music togther since 1988 with some smaller breaks along the way. He is my best friend. Of course we also have sometimes our clashes, but we always speak it out and fix it. We know what we can expect from each other and we can rely on each other with 100%.
MHMB: How did that friendship start in 1988? Was it when you started at Sinner?
Alex: I have seen Mat together with Sinner the first time on stage as support act for Magnum. That was quite a while ago. Than in 1988 I joined Sinner. It was a funny situation since I was fan of the band and all of a sudden I was standing with the guys on stage.
MHMB: We mentioned already Michael Bormann, also an old friend of you.
Alex: Yes, we played together already in a band called The Sygnet. We released one album, which got a bit of a cult status in the meantime. But after the first record Michael and myself had different ideas about the next album. So we decided going our seperate ways. Funny enough the planned second The Sygnet record became the debut of Silent Force. So we could say the Michael ist he very first Silent Force singer.
MHMB: That's interesting. I wasn't aware of this.
Alex: You're not alone with this. A lot of people doesn't know that. The situation was that we released "Children of the future", went on tour with Doro and planned working on the next album. My aim was to create a conceptual record. I had a story and I had the music ready. But when I presented it to Michael he couldn't get familiar with it. It was too fast for him and the musical direction was too progessive. So we said that we go our seperate ways before we get into stress with each other and threaten our friendhsip. The next step was that I hired D.C. Cooper and recorded the first Silent Force album which was meant to be the second The Sygnet disc. But I still have some old demo tapes with Michael singing the first Silent Force songs.
MHMB: Shortly coming back to "Rising of the ashes". How would you describe the differences between the new album and "Walk the earth"?
Alex: I think that the new album has less progressive influences. "Rising from the ashes" has a more straight forward approach with heavier guitars. I think that fits pretty well to Silent Force. The typical Silent Force trademarks like great melodies, great vocals, great chorus and keyboard melodies are all there. The album might have a few more hardrock elements than "Walk the earth".
MHMB: You mentioned already that you will be very busy next year and that you will be on tour a lot. The dates for the Primal Fear tour are already announced, but have you planned also some live activities with Silent Force?
Alex: No, we haven't planned anything yet. We will wait and see what happens after releasing the album. But I also can say that I'm on tour till May with Primal Fear and 'Rock meets classic'. So there isn't a lot of time left for Silent Force live shows in the first 6 months. I'm especially looking forward to the 'Rock meets classic' shows, since this a something really special for me. It will be my 4th tour – this time with Alice Cooper, Joe Lynn Turner and Uriah Heep.
MHMB: Sound like something really cool. Sharing the stage with Alice Cooper must be a great experience.
Alex: Yes, indeed. But my personal highlight was actually the two years together with Ian Gillan. If you have started to play guitar because of Deep Purple you can't get more than playing with Ian Gillan.
MHMB: Do you have special stories you want to share with us from your shows with Ian Gillan?
Alex: Yes, I can remember a lot of stories. But while talking about Ian Gillan, I can recall the first show we played together. It was in Frankfurt in front of 4.000 people. The first song was of course "Highway star". I've tried to dress a bit like Richtie Blackmore. 'The man in black' with white boots and my old Stratocaster. Ian was surpised when he saw me the first time. He didn't know me at all and now he faced a kind of Blackmore on the stage. I did the whole Blackmore stuff, like hitting with the cable on the guitar,... but I always kept the distance to the centre of the stage which was his area. And than came the solo part and I thought to myself that I had to do something extra which will stay in Ian's mind. So I put the guitar behind the head and played the solo that way. I turned around, I looked at him, he looked at me, he looked surprised and I just walked towards him and finished the solo in the middle of the stage directly next to him. Than, after the show he approached me backstage and said: "We have to talk". And I thought oh oh. But he just said: "The solo from "Highway star", just do it that way every show." So we really got friends during this time and I actually visited him backstage three weeks age when he played with Deep Purple in Mannheim.
MHMB: After all these thousands of shows you played, are you still nervous before entering the stage?
Alex: Yes, but I'm less nervous the more people are in the audience. My stage-fright is much bigger when I play a show in front of 50 people, than in front of 80.000 people. I'm playing quite some shows in smaller venues where the fans are standing directly in front of the stage. I love that – but I'm also a bit more nervous and excited. It just more intensive in a positive way.
MHMB: Alex, coming back to all the songs you wrote and write. Where do all those ideas come from? It seems that you an unlimited flow of creativity when it comes to music.
Alex: Sometimes I even ask myself where all this comes from. I have now already more than 30 songs ready for the next Voodoo Circle album and want to do another ten. Yeah, where do I take it from? I'm very diciplined and whenever I have an idea I record it immediately in order to not loose it. Also when I'm driving I always have my iPhone with me and record whatever gets into my mind. Actually the most ideas I get by driving alone in the car. Based on that I have a huge collection of song ideas and fragments which I can work out more in detail. That's how I create and write my songs.
MHMB: Since you are very busy with music all day long, do you find also time to listen to music yourself?
Alex: I don't listen to a lot of music in my private life. There are few moment like in the morning in the bathroom. During the day I almost find no time to listen to music. Of course I listen during my work from time to time a bit to iTunes but maybe I should place a smaller hifi-unit in my office.
MHMB: Since you mention iTunes, what is your favorite" Vinyl, CD or mp3?
Alex: The old vinyls are of course the best. But I also have to admit that I got a bit lazy and haven't listened to my vinyls since quite a while. mp3's are on the other hand very convenient. I also buy in the meantime mp3 legally and put them into iTunes and the iPhone. It's just so easy. But next to that mp3 has always a worse quality and a whole industry went almost bankrupt by mp3. It's a kind of boon and bane in one, but mp3 also became my reality.
MHMB: Alex, I would like to say thanks for the time. It was great to have you on the phone and I hope to see you in Holland soon.
Alex: You're welcome and thanks for having me.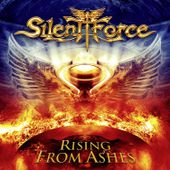 CD review SILENT FORCE "Rising from the ashes"
(9/10) This album is literally music in my ears. Heavy riffs, great melodies, powerful production and a lot of passion. That's the new release from Silent Force called "Rising from the ashes" ...
http://mwiemetalblog.over-blog.com/2013/12/cd-review-silent-force-rising-from-the-ashes.html