(8/10) I'm following Iced Earth since their very first album, actually since they released the first demo "Enter the realm" in 1989. And in all those years the band never released an average album. All their records had really good metal songs from a high quality. This also continues with the new album called "Plagues of Babylon".
"Plagues of Babylon" is the eleventh record from Iced Earth and it contains 12 songs and one outro. It is the second album with Stu Block doing the vocals. Honestly, after all the changes backwards and forwards at the mic I was doubting about a positive progression of the band. But what became obvious with "Dystopia" finds its prolongation on the new album. Already at this stage I can say that Stu's voice again fits perfect to the sound of Iced Earth. Stu sings with even more self-confidence on the new album what adds extra power to the new songs.
Talking about the new song we can say, that we have typical Iced Earth songs, meaning, all the trademarks of the band are included. The cool riffs from Jon Schaffer, as well as his galloping guitar sounds which makes the band pretty unique. There is one small exeption which is called "Highwayman". This is a cover version from an old Jimmy Webb song from 1977 (listen to the great version of Johnny Cash, Wllie Nelson,...) and sounds OK, eventhough it feels disconnected. The Iced Earth got support from Mikael Poulsen and Russell Allen for this song.
But let's have a look on the song written by the band itself. They are in average a bit longer than the ones on "Dystopia". Already the opener, which is the title track and starts with a heavy drum beat and a cool guitar melody, is almost eight minutes long. After the intro to this song it becomes a typical Iced Earth smasher with a cool middle part which includes some acoustic guitars and spoken words. A great start. Other tracks in this category is "The end?" and "Peacemaker". Esp. the last mentioned one has a strong NWOBHM component. The leads and soli remind me to bands like Iron Maiden. Next to these more epical songs there are also the shorter and to the point tracks like "Parasite" and "Resistance". Awesome headbangers.
"Plagues of Babylon" became a varied metal album and a great start into 2014. Happy new year.
(8/10)
Tracklist:
Plagues of Babylon
Democide
The culling
Among the living dead
Resistance
The end?
If I could see you
Cthulhu
Peacemaker
Parasite
Spirit of the times
Highwayman
Outro
Label: Century Media
Genre: Heavy Metal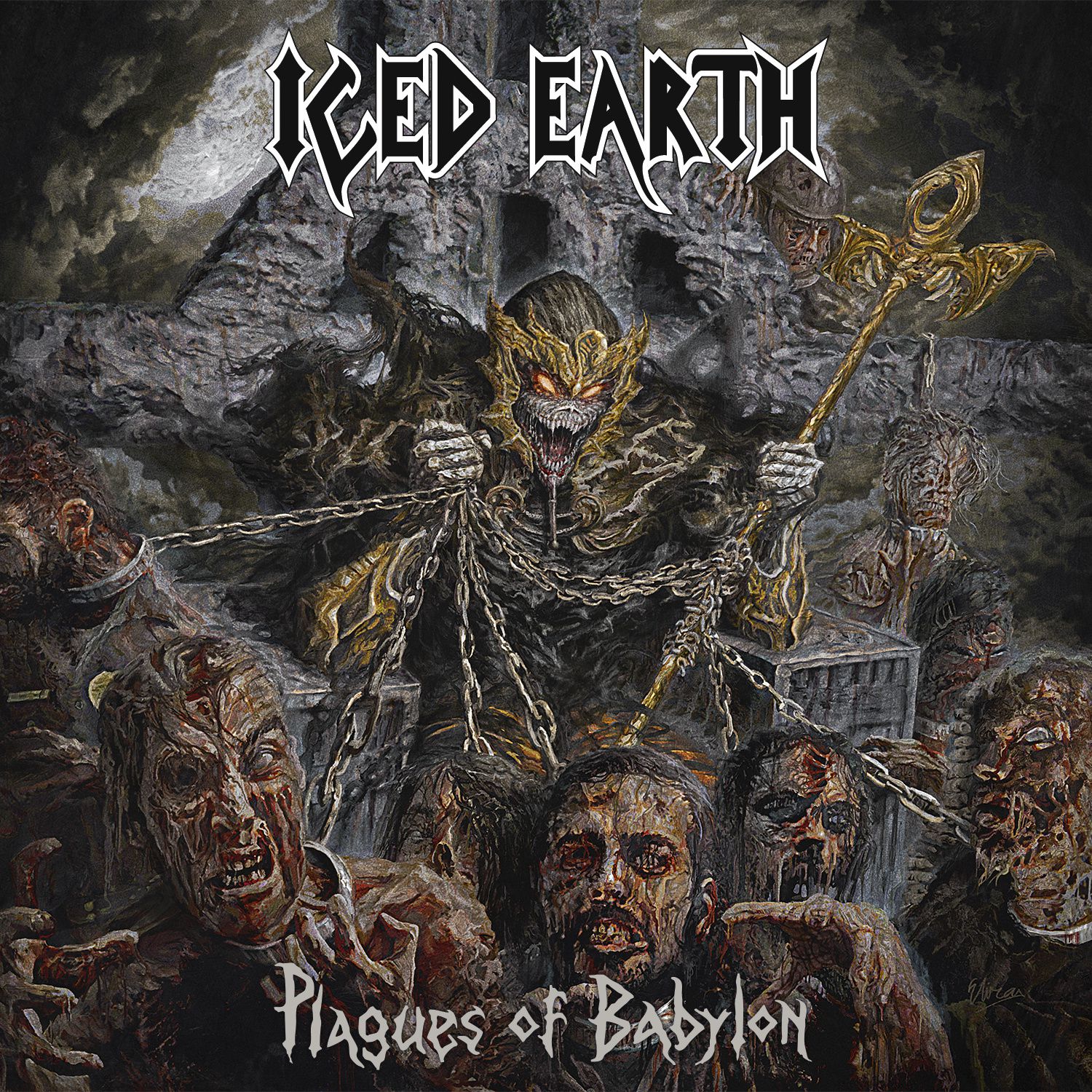 Live review VOLBEAT / ICED EARTH in Ziggo Dome, Amsterdam 21-11-2013
Volbeat is back in town. Amazing to see the rise of the band in the last years. I can remember when they played their first small club show in Holland, when they played Tilburg a few years later and
http://mwiemetalblog.over-blog.com/2013/11/live-review-volbeat-iced-earth-in-ziggo-dome-amsterdam-21-11-2013.html