Dutch band Within Temptation is working on their new album called "Hydra" which will be released on January 31st.
The band published now the second single. The song is called "Dangerous" and the band got support from Howard Jones (former Killwitch Engage). It's interesting to see how good the voices go together. The song itself is quite heavy for Within Tempation, by not sacrificing melodies and hooks. "Hydra" seems to become a good album, if the other songs have a similar level and quality.
The video was produced by Patric Ullaeus. It combines sequences from the band, Howard and a spectecular wingsuit flight. But have a look for yourself.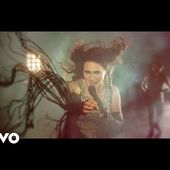 Within Temptation - Dangerous ft. Howard Jones
Order 'Dangerous' here: http://smarturl.it/wthydra Pre-order Hydra on iTunes now: http://smarturl.it/wthydra Pre-order Limited Delux Box Set now: http://bit.ly/wthydra Within Temptation collaborated