(9/10) A five hour car ride to Hamburg on a Friday afternoon is not really fun. But it can become something extremly positive if you have good music in the car. I had this experience because I was listening to the new live album from Rush.
It seems to be the period of live records and DVD's. It started with Def Leppard, than came Europe and now it's time for a live documentation of the Canadian's biggest prog specialists. They played a more than three hour show on the latest "Clockwork angel" tour, which brought them two times to North America and than to Europe. I had the pleasure to see them live with this show in Amsterdam (see review in Markus' Heavy Music Blog) and it was awesome. A great band, excellent songs and a perfect sound combined with a good show. What more do you want?
The show on this CD/DVD was recorded in November 2012 in the American Airlines arena in Dallas, Texas. Rush got support during a few songs from the Clockwork Angels String Orchestra. This was the first time/tour, when Rush was with additional musicians on stage. And I have to say that it was a really good idea. The sound of the three guys is already great in each show, but it becomes even more powerful with the string section.
The setlist of the show covers all you want to hear of the band. There are the classics of the band like "YYZ" and "Tom Sawyer". Also my personal favorite "Red sector A" found the way on the setlist. Next to these hits the band played in the middle part also quite some songs from the new album "Clockwork angels". In total 9 songs from the latest release have been part of the show and they fit perfect. Songs like "The wrecker" or "Clockwork angels" are just awesome and can compete easily with the band classics. Next to the mentioned highlights Rush played also song which the had rarely played live in the last years. Just take "The body electric" and "Middletown dreams" as examples.
"Clockwork angels tour" became an excellent live album and reflects the show 1:1. What you can hear on the album is what I experienced live. Another excellent album in the discograpgy of an outstanding band. Let's hope that this journey continues for many more years.
PS.: The time on my trip to Hamburg was flying with having this CD in the player.
(9/10)
Setlist:
Subdivisions
The big money
Force ten
Grand design
The body electric
Territories
The analog kid
Bravado
Where's my thing / Here it is (drum solo)
Far cry
Caravan (with the Clockwork Angels String Ensemble)
Clockwork angels (with the Clockwork Angels String Ensemble)
The anarchist (with the Clockwork Angels String Ensemble)
Carnies (with the Clockwork Angels String Ensemble)
The wrecker (with the Clockwork Angels String Ensemble)
Headlong flight (with the Clockwork Angels String Ensemble) / Drumbastica (drum solo)
Peke's repose / Halo effect (with the Clockwork Angels String Ensemble)
Seven cities of gold (with the Clockwork Angels String Ensemble)
Wish them well (with the Clockwork Angels String Ensemble)
The garden (with the Clockwork Angels String Ensemble)
Dreamline (with the Clockwork Angels String Ensemble)
The percussor
Red sector A (with the Clockwork Angels String Ensemble)
YYZ (with the Clockwork Angels String Ensemble)
The spirit of radio
Tom Sawyer
2112
​Bonus:
Limelight (Soundcheck recording)
Middletown dreams
The pass
Manhattan project (with the Clockwork Angels String Ensemble)
Label: Anthem / Roadrunner Records
Genre: Prog Rock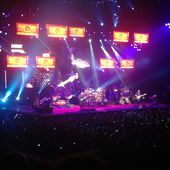 Rush concert review A'dam 2.6.13
It was a Sunday which really deserved the name. The sun was shining and brought summerly temerature to the land of tulips. But this couldn't hold back Rush fans to enter the brand new Ziggo Dome in
http://mwiemetalblog.over-blog.com/rush-concert-review-a-dam-2.6.13