(8/10) I have a special link to Bosshoss, since I'm also from Heidenheim, the city where Hoss Power Sascha Vollmer was born and grown up. Furthermore I have seen the band years ago in the small Turnhalle in Mergelstetten, Germany, when they were not known at all. So almost a fan from the first hour on.
But times changes and The Bosshoss is in the meantime a big seller. Coming from cover versions the band created more and more their own identity. The new things with Bosshoss is/was the combination of rock and country. This made esp. some cover versions from the old days very special. Just listen to their version of Ministry's hit "Jesus build my hotrod". A great version.
But enough talked about the old days. The band released their new album a few days ago. It is called "Flames of fame" and is number seven in the band discography. Of course Bosshoss sticks to their formula of success. Again your ears get rock'n'roll with country influence. I was afraid, that the band starts to copy themselfs by avoiding risks and new influences. A little bit like what we got with the latest Volbeat. But in this case it is different. Eventhough some songs sound like, if they would be from the former album session "LIberty of action" - I'm thinking e.g. about "Whatever". There are also a few weaker songs on the album like "Eager beaver". I have the feeling that I have heard these kind of song from Bosshoss already too often. Also "Easy to love you" didn't become one of my favorites. Maybe it takes some rounds, but so far it's more for the skip button.
BUT, there are also enough excellent songs on the album. One of them is definitely the first single "Do it". The video actually reminds me to the "Sons of anarchy" MC. I guess it was an inspiration. Cool which can turn on endless loop. Also the straightforward opener "Bullpower" delivers what the name says. Raw power. "My personal song" is a cool acoustic groover and "What if" is the ballad on the album. Maybe a little bit to kitschy, but not bad at all. The final track "God loves cowboys" is a cool song with an twickle in the eye lyrics - "..if you mess with Bosshoss you mess with God". Nothing more to say.
"Flames of fame" became a good Bosshoss album which makes fun to listen to. It makes you forget grew autumn days and I hope to see them back in Holland soon (Was a great show in A'dam a few years ago!)
(8/10)
Tracklist:
Bullpower
Do it
Whatever
Eager beaver
My personal song
What if
Easy to love you
A little more more more
Backdoor man
Yes or no
God loves cowboys
Label: Island (Universal)
Genre: Counrty Rock'n'roll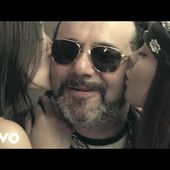 Music video by The BossHoss performing Do It. (C) 2013 The BossHoss, under exclusive license to Polydor/Island, a division of Universal Music GmbH