It was an ice cold February evening when British metal icons Saxon had a stop at 013 in Tilburg to warm up the city with some hot metal riffs. No less than the legendary Diamond Head joined Saxon on their European tour and it was Brazilian metal newcomers Armored Dawn who got the opening slot in this package.
The first time I saw Armored Dawn on stage was when they opened for Fates Warning a few months ago and the impression I got wasn't the best. And since the new longplayer wasn't the most exciting one either I was curious about what they guys from Brazil will offer that night in Tilburg, being the opener for Saxon and Diamond Head. In general I must say that the guys did a much better job than earlier. They could create some reserved excitement in the first row and earned some well-meant applause at the end. As on the album, guitars were spot-on and also the sound they got was better. The biggest challenge though for Armored Dawn is their singer and frontman Eduardo Parras. He tries hard but there are much better metal sirens out there in the metal universe. All in all Armored Dawn showed some improvement and a solid show - not more but also not less.
Diamond Head's concert was the first highlight tonight. The band, known by many from the Metallica's cover version of "Am I evil", preformed a professional and dedicated gig that was full of hits. The temperature in the venue immediately rose by the first riffs of guitar icon Brian Tattler. The guitarist is the only remaining founding member and driving force behind the band since many years. He and his three band mates showed that night how classic metal should sound like if being performed with a lot of passion. Next to Tattler it was vocalist Rasmus Bom Andersen who is not only an excellent singer but also a great frontman. Constantly in motion it was him being an engine of youth on stage with great vocals and agile stage acting. He was constantly motivating the crowd to be loud, and fans reacted accordingly. In the end each of the guys on stage obviously enjoyed playing live and fans rewarded this attitude with more than just a warm applause. Diamond Head was a true special guest for Saxon and since the guys aren't around too often, it was a pleasure to witness their show in Tilburg, a concert with the earlier mentioned "Am I evil" as the Grande finale with audience being a huge choir for the chorus.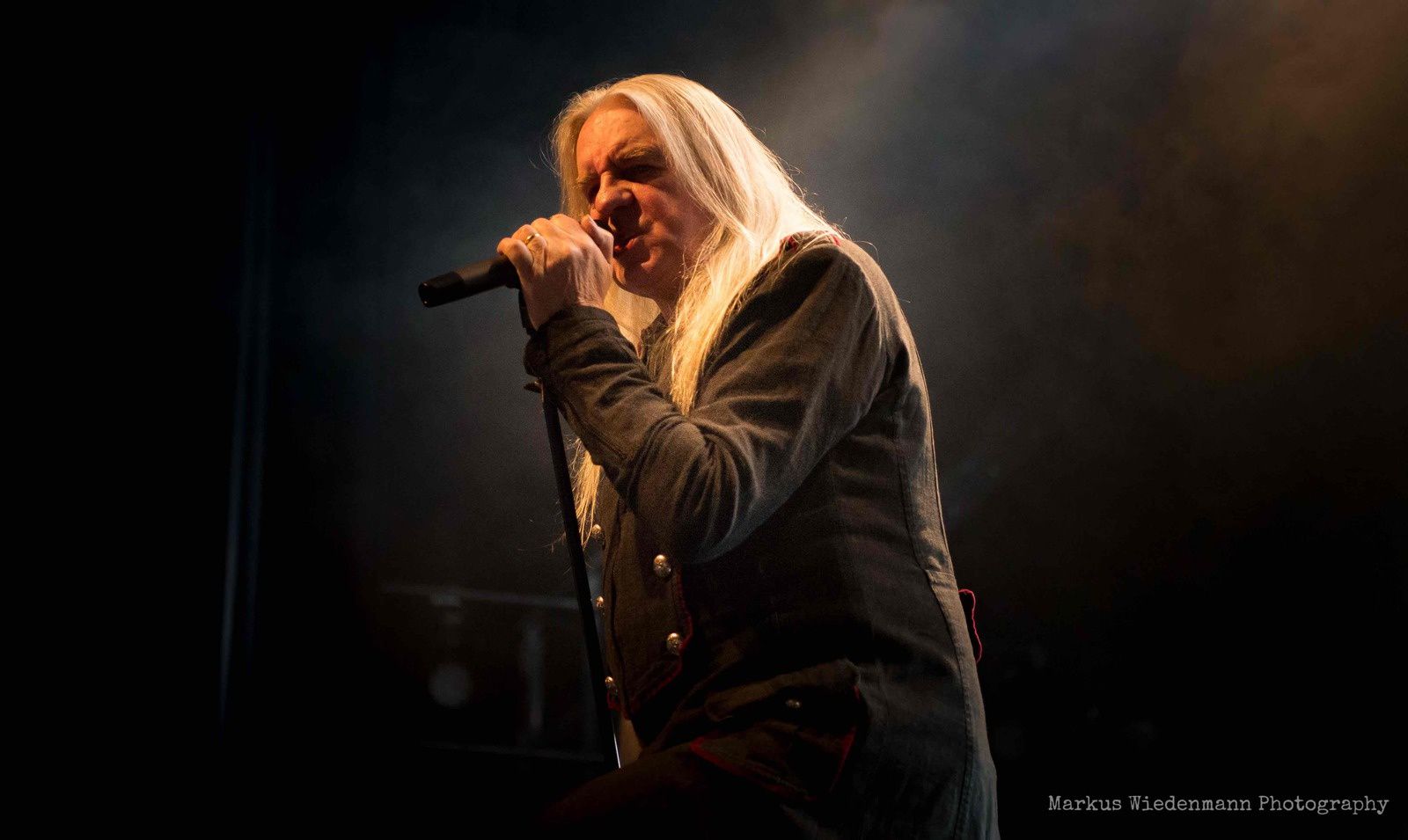 After warming up the crowd in such a good way it was an easy thing for Saxon to take over and turn the venue into a metal madhouse. I have seen the band several times over the last 6 years and they never disappointed. It's the combination of almost 40 years experience in rock, terrific songs and powerful stage acting that makes each Saxon concert to a special moment. The guys play together in the same line-up since many years and you can see and hear that the chemistry is there. It's a blindfolded interplay and interaction that grew over many years, leading to a dense and powerful sound that builds the base for 90 minutes of metal delight. As if it would be the most natural thing on earth Paul Quinn and Doug Scarrett create enormous riff power while it's bassist Nibbs Carter who spreads the metal virus by a pounding bass play that's heavier than what you get to hear on any album.
Saxon ignited a firework with old classics that were highly anticipated by fans. And it has been the new songs that fitted perfectly into the context by creating a seamless experience of rock that night.
As frontman Biff Byford said: "It's Tuesday - and it feels like fucking Friday" and what he meant was the metal party vibe that filled the venue. Saxon might get older, but they are in an impressive shape and form. These guys are metal pioneers and it was the big crowd at 013 that rewarded all the band's effort with horns up and an enthusiastic applause at the end.
I'm already looking forward to see the quintet from England again on this year's Rock Hard festival where Saxon headlines one day. ... And Saxon plays on. Hopefully for many more years.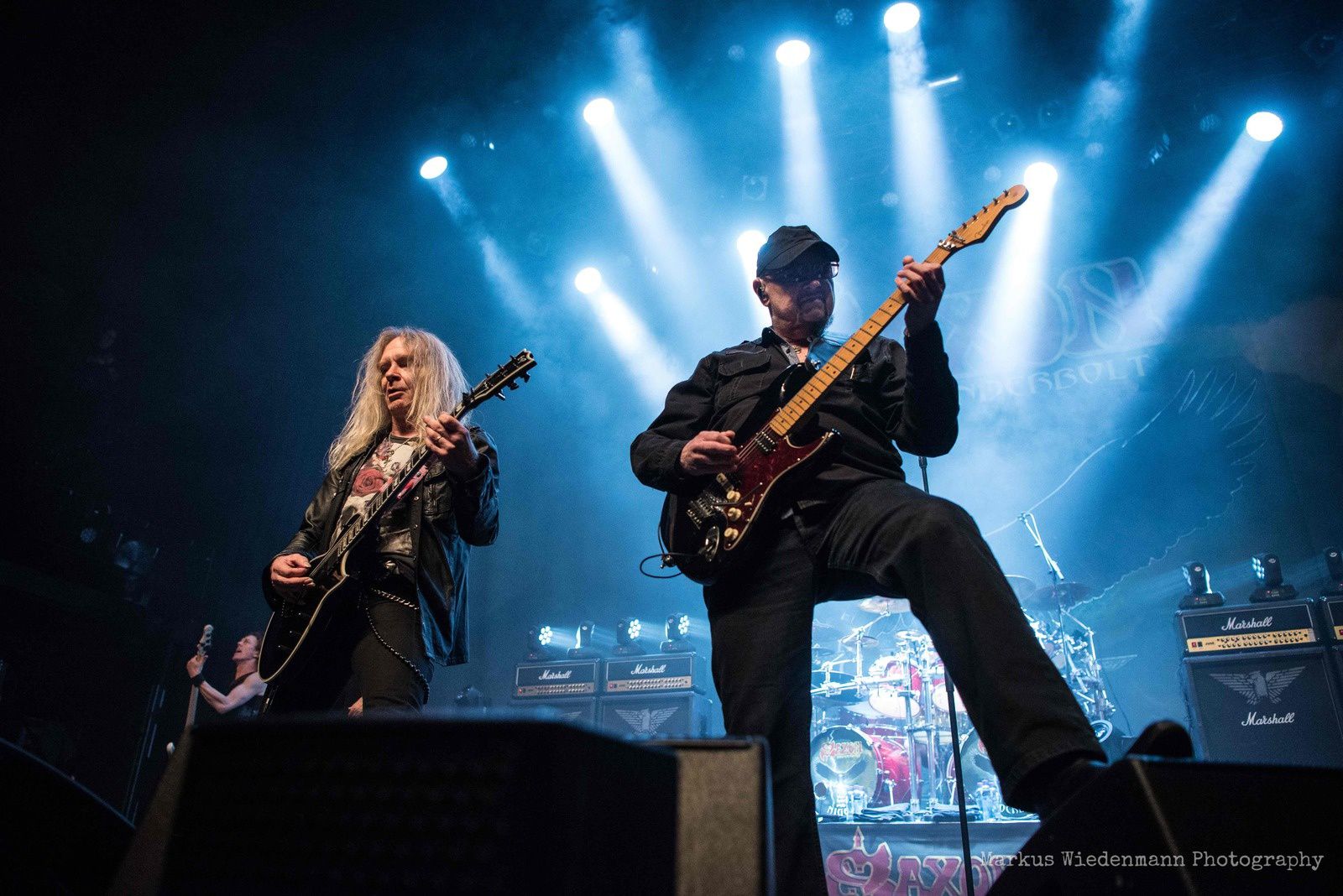 Tracklist Diamond Head:
Helpless
Bones
In the Heat of the Night
Lightning to the Nations
It's Electric
The Prince
Am I Evil?
Tracklist Saxon:
Thunderbolt
Sacrifice
Nosferatu (The Vampire Waltz)
Motorcycle Man
Strong Arms of the Law
Battering Ram
Power and the Glory
Sniper
The Secret Flight
Dallas 1PM
Never Surrender
Predator
They Played Rock and Roll
And the Band Played On
747 (Strangers in the Night)
Crusader
Princess of the Night
Heavy Metal Thunder (Encore)
Wheels of Steel (Encore)
Denim and Leather (Encore)
Location: 013, Tilburg, The Netherlands
Date: February 27th, 2018
More photos of Saxon on FLICKR
More photos of Diamond Head on FLICKR