Canada thrash metal dinosaurs Voivod belong to the group of bands that had and have a significant impact on metal music. The band from Quebec created a sound that's unique up to date. Even though their music shows different facets over time, each of the various periods had a typical Voivod signature that made the band recognizable and differentiated them from other metal bands.
Thanks to the 'Noise lebt!' relaunch campaign it's the first milestones of this iconic band that have been re-vitalized. This excellently done package of Voivod classics includes the re-issue of three milestones in metal; capturing the period between 1986 and 1988.
The debut "War and Pain", which is not part of this series, was published in 1984, an album that created already some excitement in the underground, leading to a contract with Noise Records and a first release for the new label.
"Rrröööaaarrr" is an album that's as unusual as its title supposes. The sophomore longplayer of the four Canadians is a raw piece of music that includes an anarchical vibe that infectes each of the nine songs on the album. "Rrröööaaarrr" is a coarse disc that brings together some punk, thrash and metal – a sound that was new at the time. Already at this early stage of the band some progressive structures have been included in the tracks, however it is the raging chaos in their music which was the dominate factor. Tracks like "Korgüll the Exterminator" survived over all these years and are still a highlight in the bands live shows. Voivod's second longplayer strengthened their position in underground thrash metal and helped the band to also get more attention in Europe. The entire reissue version went through a remastering and is also available in a vinyl version.
What comes with this re-issue is a live recording that underlines the underground popularity at this moment in time. On a second CD the package includes a live recording from Montreal, a show that was captured in 1986 at Spectrum. What rounds off this fantastic re-release is a DVD that rehearsals and live footage of early shows of the band.
(8/10)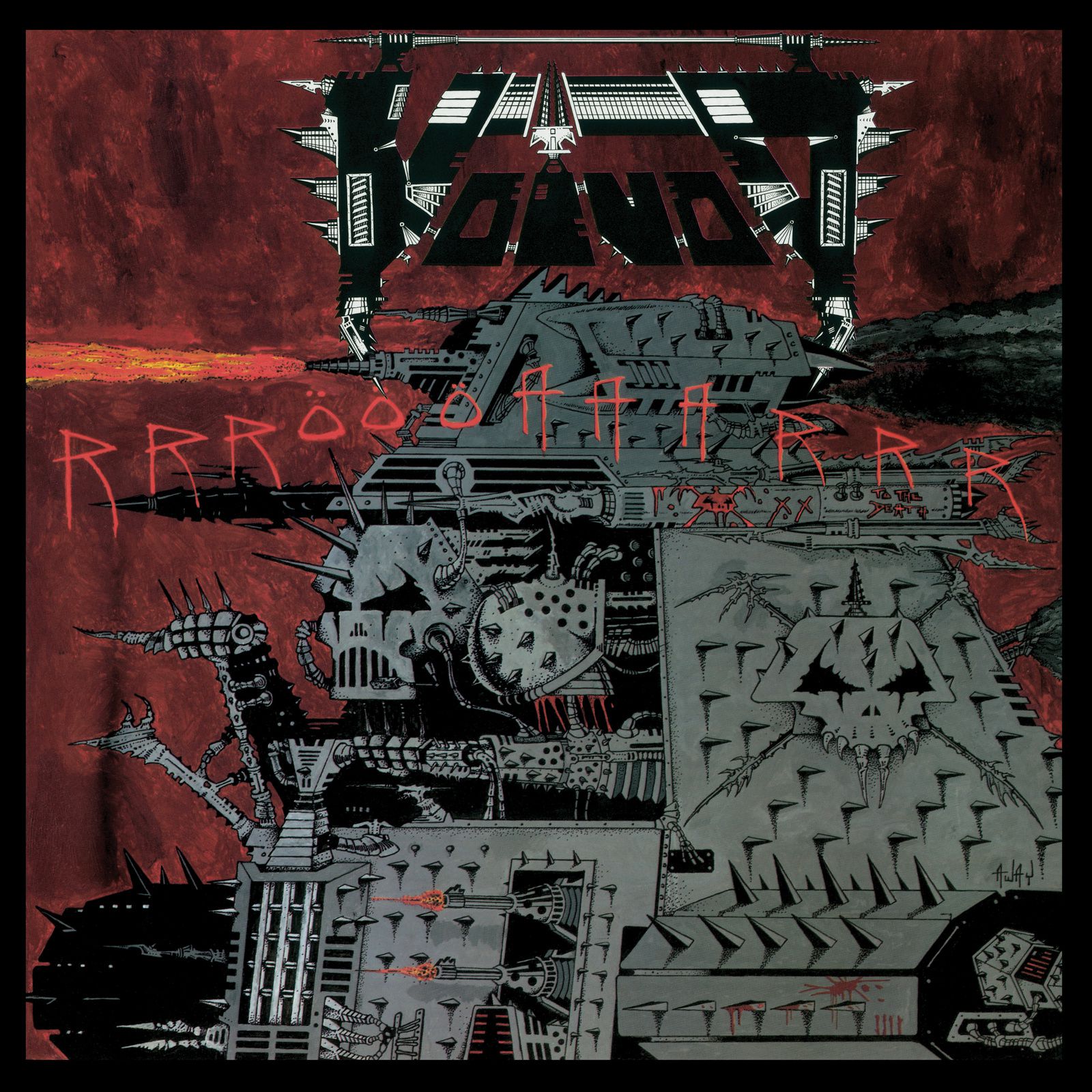 After such a bold metal record Voivod unveiled one year later their third studio album "Killing Technology". Voivod continued their journey through post-apocalyptic metal which means that the record includes again all the mentioned trademarks. However, "Killing Technology" has a bit more of a structured chaos, will say that the progressive parts of their wild thrash metal started to scratch the surface a bit more. Like with all Voivod releases it takes a while till the music reveals the full raging beauty. As with the predecessor also this longplayer includes nine songs that are framed by the classics "Killing Technology" and "Cockroaches.
In a consistent manner also this package includes a live show. Voivod returned to Spectrum in 1987 and the recording of this show is the special treat on this re-release. The DVD instead focuses more on shows in Europe with footage from Tuttlingen (Germany), Sargans (Switzerland),… while there's also a special slideshow included on the DVD, covering live and studio photos plus artwork, which was always another important part of Voivod too.
(9/10)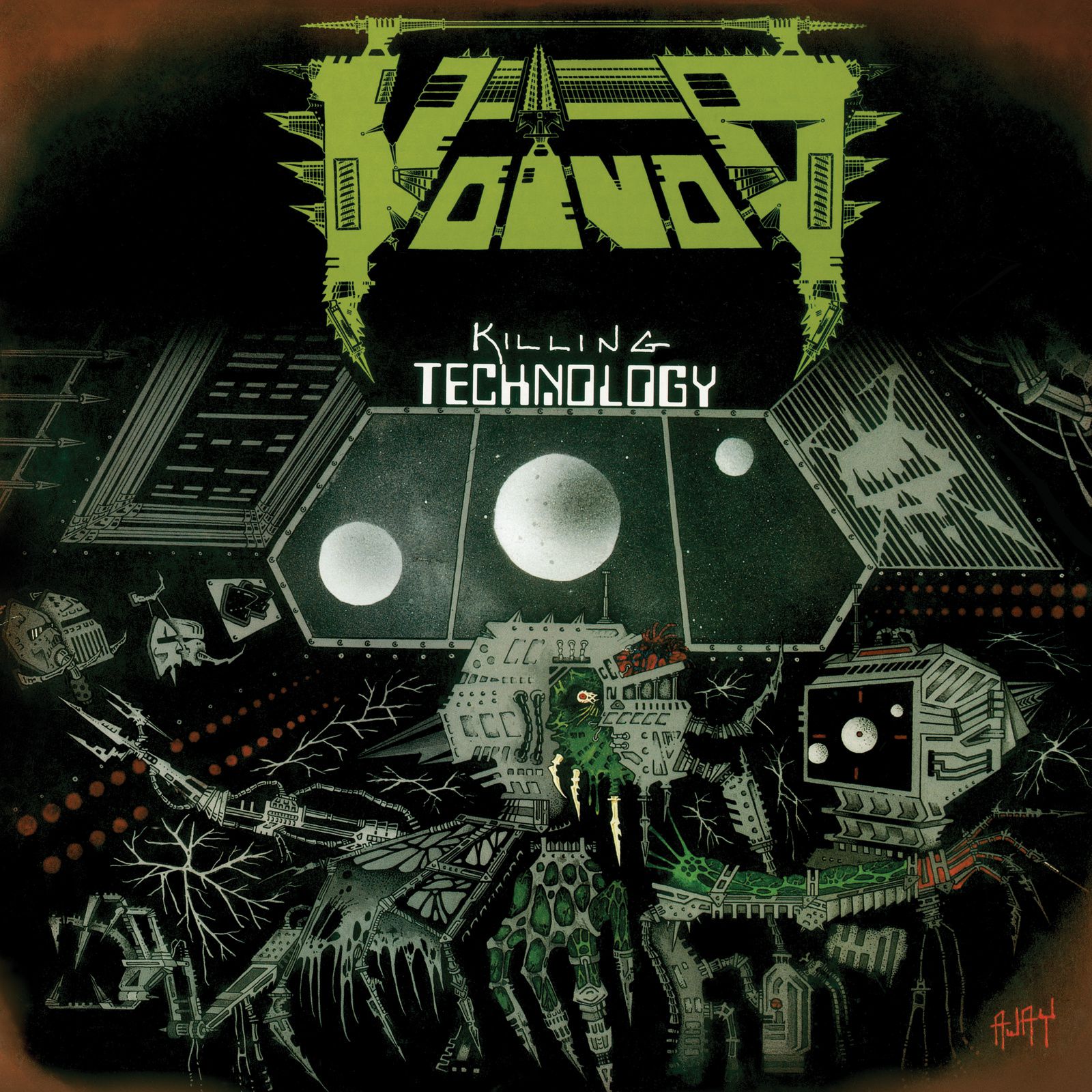 Having released three excellent longplayers made Voivod to far more than just a decent band. The guys had a constantly increasing fan base that was greedily looking forward to some new stuff. It was in June 1988 when the wait was over. "Dimension Hatröss" hit the shelfs and showcased the next level of evolvement. The album that was produced by Harris Johns tells the story of cyborg Korgull. The album is split into two sections – 'Prologue' and 'Epilogue'. The four-piece band from Quebec focuses on eight songs with the "Batman" theme which was by the way only part of the CD. Songs like "Chaosmöngers" and "Brain Scan" are genius thrash metal anthems, each of them very welcomed as being part of a Voivod show.
And since you read the review up to this stage you can guess what's part of this third re-issued album too. Indeed, it's a live show that was recorded at Spectrum in Montreal – this time in 1988. As it's with the other live recordings it's a well-done capturing of a live show that shows the band on a first peak. The DVD, as the third disc in this very worthwhile set includes live shows filmed during Voivod's US tour at the end of 1988.
These three album are milestones in metal that thanks to the revitalization of 'Noise lebt!' get into the record stores again – as CD and in vinyl. Voivod is more than just a band. It's a passionate unit of artists that created a concept which includes music and art, all with a rebellious spirit, something made them unique and helped to avoid conformity. These guys, also at a later stage, developed a sound that's still recognizable as being from Voivod and the three longplayers stand for avery strong foundation for all the achievements.
(9/10)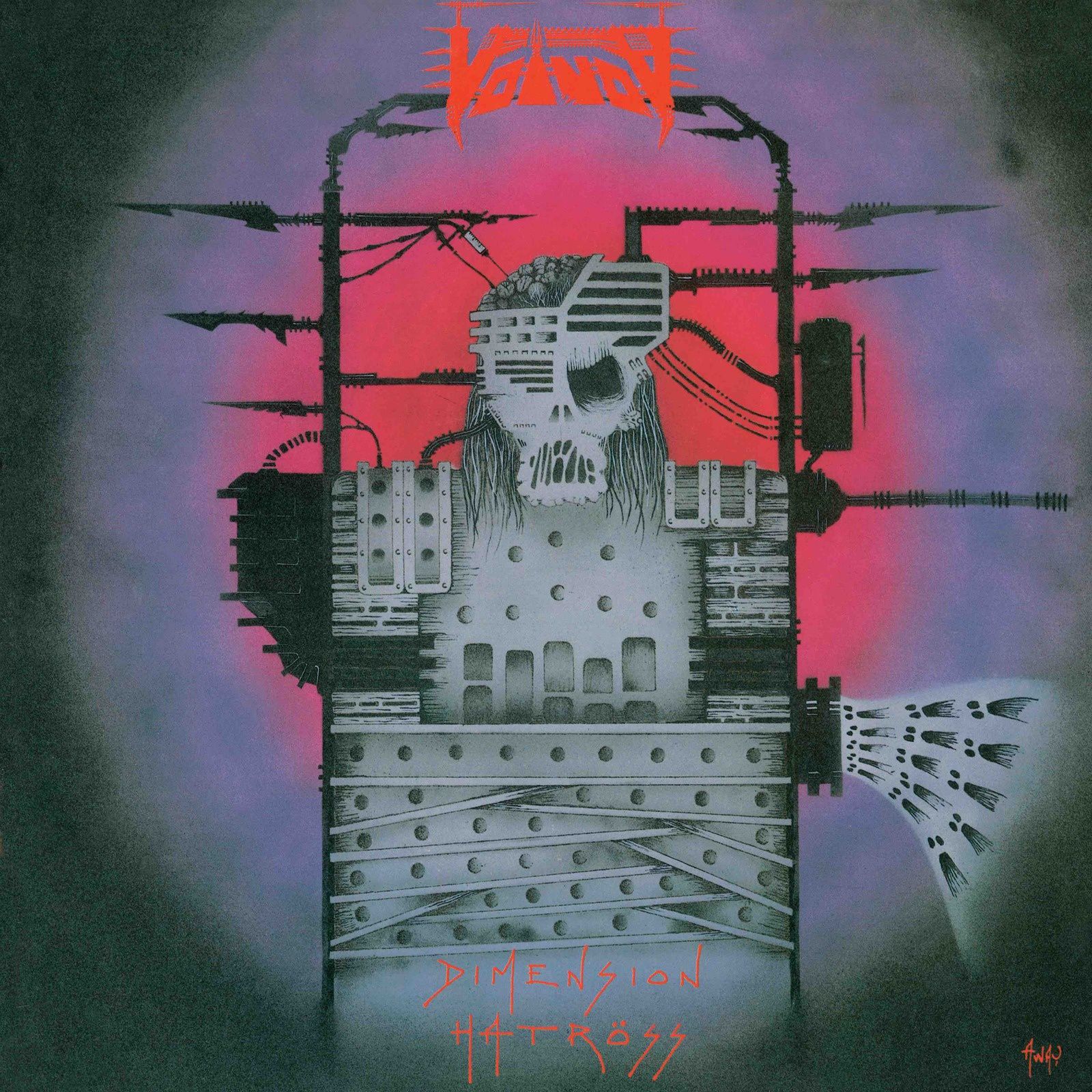 Tracklist "Rrröööaaarrr"
CD1
Korgüll the Exterminator
Fuck Off and Die
Slaughter in a Grave
Ripping Headaches
Horror
Thrashing Rage
The Helldriver
Build Your Weapons
To the Death!
CD2
Spectrum '86 – 'No Speed Limit Week-End'; Live at Montreal, October '86
Korgüll the Exterminator
Ripping Headaches
Blower
Fuck Off and Die
Tornado
Iron Gang
War and Pain
Warriors of Ice
Nuclear War
Overreaction
The Helldriver
Ravenous Medicine
Voivod
Thrashing Rage
DVD
Audio:
Rrröööaaarrr Rough Mix Demo 1985
Anachronism Live 25.06.86 (first show)
Early Rehearsals 1983-1984
Piggy Sound Collage 1980
Video:
Live, NYC, N.Y., USA – 05/05/86; First U.S. Show
Live, Long Beach, C.A., USA – 06/13/86
Live, Jonquiere High School, QC, Canada, 12/20/84; Morgoth Invasion
Live, Jonquiere Cultural Center QC, Canada, 01/27/84; To the Death!
Slideshows: Artwork (1983 – 1986) + Live & Studio Photos (1985 – 1986)
Tracklist "Killing Technology"
CD1
Killing Technology
Overreaction
Tornado
Too Scared To Scream
Forgotten In Space
Ravenous Medicine
Order of the Blackguards
This Is Not an Exercise
Cockroaches
CD2
Spectrum '87 – Live In Montreal, September 1987
Killing Technology
Overreaction
Ravenous Medicine
Tornado
Korgull the Exterminator
Ripping Headaches
Blower
Live For Violence
Tribal Convictions
Order of the Blackguards
Cockroaches
To The Death
Voivod
Batman
DVD
Audio:
Live At Kriekelaarzaal, Brussels, Belgium: 28/11/87
Video:
Live At The Token Lounge, Westland, MI, USA: 14/05/87
Live At Rossli Azmoosm, Sargans, Switzerland: 06/11/87
Live At Festhalle, Tuttlingen, Germany: 07/11/87
Live At Rex Club, Paris, France: 01/12/87
Live At Ildiko's, Toronto, ON, Canada: 19/09/87
Slideshows: Artwork (1987) | Live & Studio Photos (1987)
Tracklist "Dimension Hatröss"
CD1
Experiment
Tribal Convictions
Chaosmongers
Technocratic Manipulators
Macrosolutions to Megaproblems
Brain Scan
Psychic Vacuum
Cosmic Drama
Batman
CD2
Spectrum '88 – 'A Flawless Structure?'; Live in Montreal, December 21st 1988
Overreaction
Experiment
Tribal Convictions
Chaosmongers
Ravenous Medicine
Korgull the Exterminator
Technocratic Manipulators
Macrosolutions to Megaproblems
War and Pain Medley
Brain Scan
Psychic Vacuum
Order to the Black Guards
Holiday in Cambodia
Batman
DVD
Audio:
Dimension Hatröss Demo 1987
Videos:
Live At Blondies, Detroit, MI, USA : 18.11.88
Live At the Axiom, Houston, Texas, USA : 10.12.88
Live At Anthrax, Norwalk, CT, USA : 09.11.88
Live At Fenders Ballroom, Long Beach, California, USA: 03.12.88
Slideshows – Artwork | Live and Studio Photos (1988)
Label: BMG/Noise
Genre: Progressive Thrash Metal
Release Date EU: April 28th, 2017