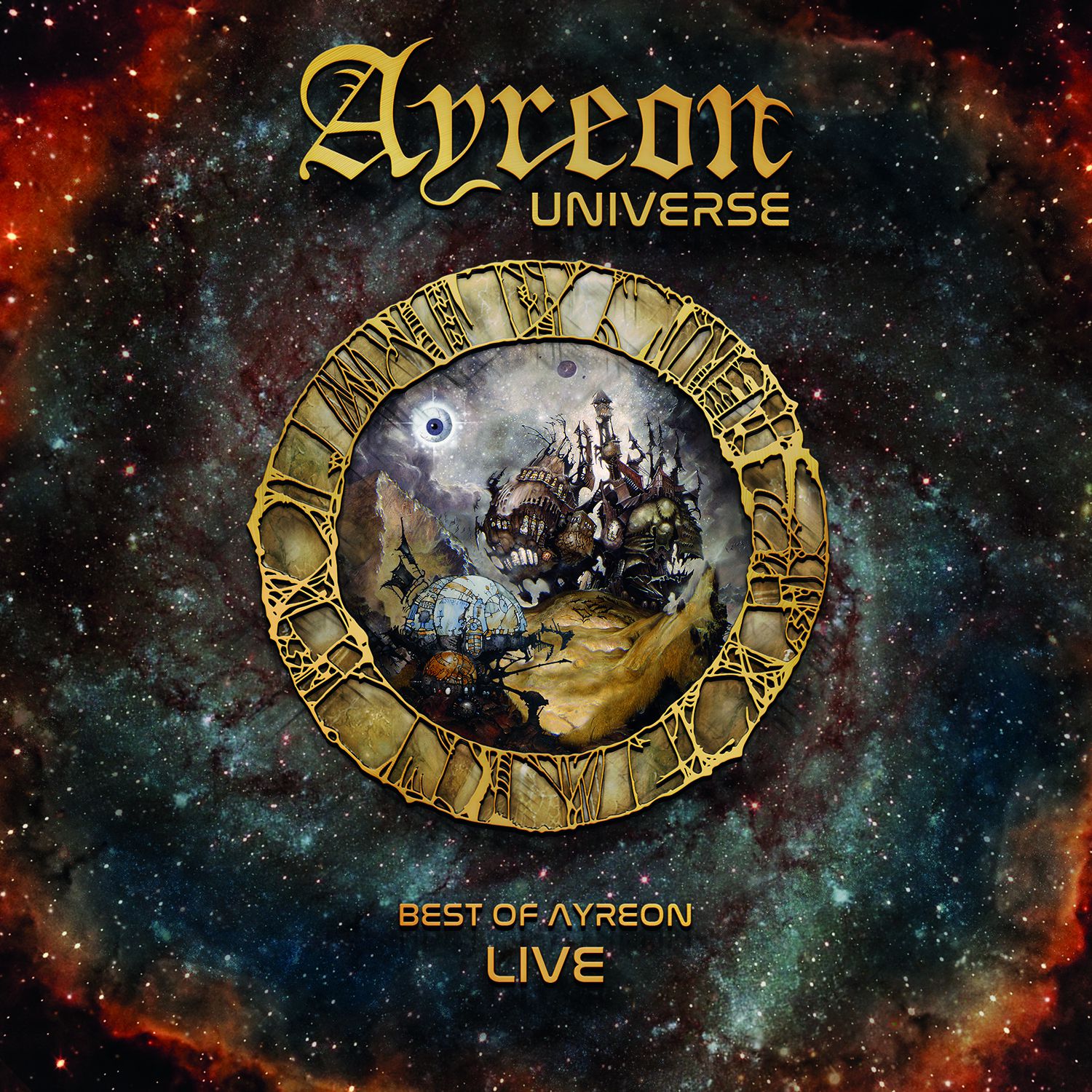 (10/10) There are musicians were you wish their music would be as big their ego and you have musical passionistas like Arjen Lucassen, iconic composers that got the gift of an endless flow of creativity combined with musical skills to realize these ideas and dreams. The Dutch guitarist has been part of so many bands and projects that it's hard to keep track of all of them. Things started with Bodine, a band from Den Haag, before the first international success came with hardrock outfit Vengeance. Especially "Arabia" included already some multilayered sounds and more complexity than what fans got to hear with the predecessor "Take It or Leave It".
After having left Vengeance the 2m tall guitarist had several projects in the starting blocks of which Star One and Ayreon are the most important ones. Ayreon debut in 1995 with "The Final Experiment", with eight additional longplayers that followed. "The Source" was the latest studio album to date, a record that saw the light of day in 2017. Even though the band released excellent longplayers it stayed a studio project, mainly due to huge number of guest musicians that have been involved in the various productions and the complexity of bringing such an awesome group of people together on stage.
2015 was a kind of turning point when it comes to live ambitions for Ayreon. "The Human Equation" got a live production, leading to four shows at Nieuwe Luxor Theater in Rotterdam. One of these shows has been recorded and the release of a live DVD/CD some months later gave all Ayreon fans a chance to be part of this unique moment. It feels like these shows acted as a trigger for more. Fans were highly enthusiastic and the four Rotterdam shows have been the kick-start for the Dutch guitarist to go even bolder when it comes to live ambitions.
Lucassen planned to do one show at 013 in Tilburg under the banner of "Ayreon Universe", this time, in contrary to "The Theater Equation", arranged by Lucassen himself in cooperation with Joost van den Broek. Ayreonauts all over the world got extremely excited by this news and it was pretty soon obvious that one show would not do the job. Two more concerts have been added, all being sold out in no time too and even a try-out show in a smaller set-up got the 'sold-out' sign very quickly.
Fortunately for all the lucky ones who witnessed this unique moment in rock as well as for all the other fans of Lucassen's excellent music this special event was captured on film and tape. It will be end of March this year when Music Theories Recordings / Mascot Label Group brings this show right into peoples living room in various formats.
In total 16 original singers (list se below) have been involved during these three shows in April 2017, performing 28 songs from Ayreon (plus two from Star One) which led to more than two hours of exciting rock and metal, performed to perfection.
Songs played that night captured the entire Ayreon journey in rock. The debut "The Final Experience" was present with three songs, all in the first half of the show, and also latest highlights ("Everybody Dies" and "Star of Sirrah") from "The Source" have been performed. The main focus though was on the 2008 record "01011001" and "The Theory of Everything" from 2013. Five songs each made it on the impressive setlist while it was the Star One classic "The Eye of Ra" rounded of a terrific night.
Arjen Lucassen succeeded with 100% when it comes to his ambition of creating a special evening of music. Passion and a strong willpower were the key to mount such a brilliant production. "Ayreon Universe" lifts the bar when it comes to concerts and live recordings. To coordinate so many musicians, on stage and from a production perspective, is an enormous effort. Everybody involved in this concert experience - musicians and fans, cherished all the hard work. It was a unique moment, a once-in-a-lifetime event, that every fans of rock & metal music should have been seen and listened to. This live release is big and needs to have a pole position in every serious collection of rock.
(10/10)
Tracklist:
CD 1:
Prologue
Dreamtime
Abbey of Synn
River of Time
Prologue: The Blackboard
The Theory of Everything, Part 1 & 2
Merlin's Will
Waking Dreams
Dawn of a Million Souls
Valley of the Queens
Ride the Comet
Star of Sirrah
Comatose
Day Sixteen: Loser
And the Druids Turn to Stone
CD 2:
The Two Gates
Into the Black Hole
Actual Fantasy
Computer Eyes
Magnetism
Age of Shadows
Intergalactic Space Crusaders
Collision
Everybody Dies
The Castle Hall
Amazing Flight
Day Eleven: Love
The Eye of Ra
Label: Music Theories Recordings / Mascot Label Group
Genre: Progressive Rock
Release Date EU: March 30st, 2018
Formats:
5-Disc Earbook with 2CD, 2DVD and Blu-ray
Blu-ray
2DVD
2CD
3LP (Black vinyl)
3LP (Limited edition gold vinyl - Ayreon webstore exclusive)
Vocalists:
Floor Jansen - Nightwish
Damian Wilson - Threshold
Hansi Kürsch - Blind Guardian
Tommy Karevik - Kamelot
Anneke van Giersbergen - The Gentle Storm
Marco Hietala - Nightwish
Jonas Renkse - Katatonia
Mike Mills - Toehider
Marcela Bovio - Stream of Passion
Irene Jansen - Ayreon
Robert Soeterboek - Star One
John Jaycee Cuijpers - Praying Mantis
Edward Reekers - Kayak
Jay van Feggelen - Ayreon
Maggy Luyten - Nightmare
Lisette van den Berg - Scarlet Stories
Instrumentalists:
Ed Warby - Drums
Johan van Stratum - Bass
Marcel Coenen - Lead guitar
Ferry Duijsens - Guitar
Joost van den Broek - Keyboards
Ben Mathot - Violin
Jeroen Goossens - Flutes, woodwinds
Maaike Peterse - Cello