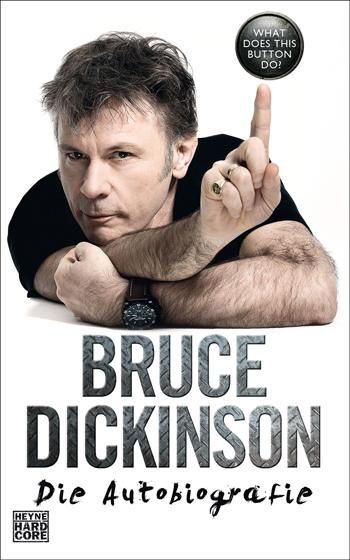 Introducing Bruce Dickinson feels like carrying sand to the beach. If you're interested in metal there's now way around it, knowing the iconic frontman of NWoBHM spearheads Iron Maiden. The legendary singer from Worksop, England started was part of many bands of which Iron Maiden is the by far best known one. There was a life before Maiden though, days when Dickinson was the singer of Samson. The singer was part of the two most important Samson records - "Head On" and "Shock Tactics" - before he replaced Paul Di'Anno as vocalist of Iron Maiden. The singer also had some solo records in the pipeline, which were mainly released during the 90's when Dickinson focused on his own band and project.
Next to his musical career the sympathic singer also has the got the gift of being multi-talented. Amongst many other things it's fencing being one of his passions outside of music and also him being a pilot for planes like a Boeing 747 shows the variety of interest more than well. Having such an exciting and interesting vita can only lead to one conclusion - writing a biography. In this case it's even an autobiography, which was published a few weeks ago, showing an additional talent of Dickinson.
"What Does This Button Do" is the title of an exciting reading experience. Things began in 1958, the year of birth of Dickson. His grandparents raised him as an only child till 1963, the year when Dickinson's younger sister was born. The singer gives a lot of insights into his youth, sharing exciting stories that are entertaining and easy to read. In another chapter he describes the days in Samson and the first touch point with Iron Maiden. Samson entered the Battery Studios in Willesden for recording the "Shock Tactics" album and it was Martin Birch, working next door on Iron Maiden's "Killer" record, days when Samson was headliner and Iron Maiden support act.
The book is full with all these anecdotes and stories from Dickinson's exciting life of which the diagnosed cancer is also a part. The singer describes things in an extremely open way towards the end of the book. On one of the last pages Dickinson mention that he got so often the question about, if, in retrospective, he would do some things different when it comes to his life and career and he also states that the answer was always a clear 'No'. I think that this describes the iconic frontman in an excellent way. Life isn't a simulation. Life is real and it includes also failure and mistakes as a part of developing an own personality.
"What Does This Button Do?" is a comprehensive and thrilling summary of important moments in Dickinson's life. The book covers important milestone in and stories, told in a very open way as it can be expected from the extrovert legend in metal. It provides insights that are captured in an enthralling way which makes this book to an enjoyable reading experience, not only for metal fans.
For the German readers:
Bruce Dickinson
What Does This Button Do?
Die Autobiographie
Heyne Hardcore
450 Seiten
€ (D) 22,- / € (A) 22,70 / sFr 29,90
ISBN 978-3-453-27112-8
Translated by Daniel Müller, Harriet Fricke, Dieter Fuchs, Matthias Jost